ANOTHER YEAR OF DINNER IN THE SAME PLACE AS ALWAYS? WHY DON'T YOU VENTURE SOMETHING DIFFERENT? SOMETHING THAT CONNECTS YOU AND MAKES YOU TRULY LIVE. AN EXPERIENCE THAT WILL MAKE YOU LOVE. REMEMBER, VALENTINE IS NOT THAT CHEESY GOLDEN-HAIRED CHERUB, BUT A LORD WHO DARE TO BREAK THE RULES AND MARRY OUTLAW LOVERS.
8 ULTRA ROMANTIC EXPERIENCES FOR THIS VALENTINE'S DAY
We get romantic and we bring you some exclusive plans for these dates. Tastings as a couple, surprising visits, loving accommodations… Come and discover these 8 experiences as a couple to surprise and spark again.
Also remember that all our experiences as a couple can be great occasions to have a romantic detail with your partner. Don't let them tell you again that you're not romantic at all! Our plans are daring, new and even magical. What are you waiting for to discover them?

1. RELIVE THE MOST ROMANTIC MOVIE SCENE
SIf we talk about romantic scenes in the cinema we have to remember THE SCENE, a lathe, a vase and the two of them, one alive, the other not so much. (Do you already know what scene it is?) And if we have to relive it in Aragón, we have to transport it to the most magical area full of secrets that we have: the Maestrazgo.
A full-day activity that will begin by touring Villarroya de los Pinares, an architectural jewel of the mastership that preserves the medieval layout of its streets and unique buildings such as the prison, the former conjuradero, the Gothic-Renaissance church and the Peña Palace, with a history worthy of mention. novel. Then, we will go to Miravete de la Sierra, a fairytale town. We will visit the mill, the oven and the gothic church with baroque paintings.
After this entertaining morning, a grilled meal awaits us, calçots from Valls and lamb from Aragon, washed down with Calatayud wine.
And in the afternoon, oh the afternoon!, we will have a pottery workshop with VillaRubei. We hope you don't break your clay pieces like in the movie.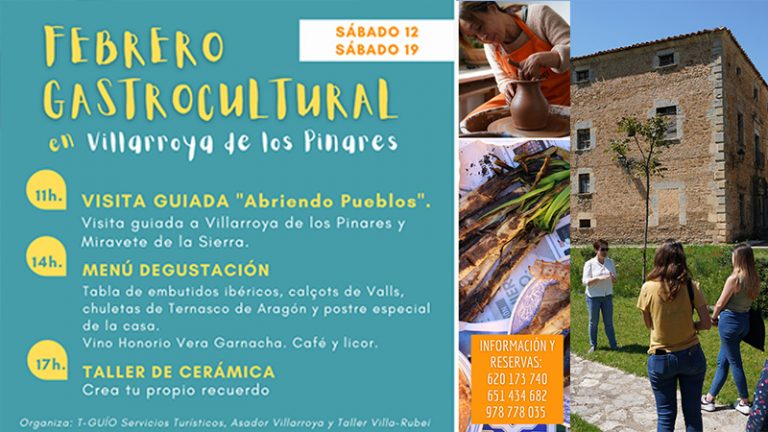 2. LAUGHTER AND KISSES IN CARIÑENA
The best experiences are rare. Like this tasting offered by Tierra de Cubas and Pop It: wine and popcorn.
How what popcorn? This tasting is not serious! some heroes of Bacchus will say. Now here near. It is a fun time, for you to learn to savor, to capture the subtleties that your tongue perceives, your smell and your touch. A whole declaration of intentions for Valentine's Day.
The experience lasts 1 hour and 30 minutes and will take place on Saturday 12 and Sunday 13 at 12 noon. Reservation required.
3. WITH OR WITHOUT YOU 
How many times have you sung it out loud? It is a romantic anthem, although its lyrics are not. It is impossible not to fall in love with those chords. What if we told you that you can also sing it to them from the jacuzzi of a U2-themed apartment with views of one of Teruel's Mudejar towers? More romantic? IMPOSSIBLE.
The largest U2 Temple in the world opens its doors to love on Valentine's Day in the most romantic city in Aragon. Teruel and her lovers, Diego and Isabel but also Zoraida's, Omar and Abdalá. Attention! Love is in the air and this time with no more tragedy than getting out of the jacuzzi.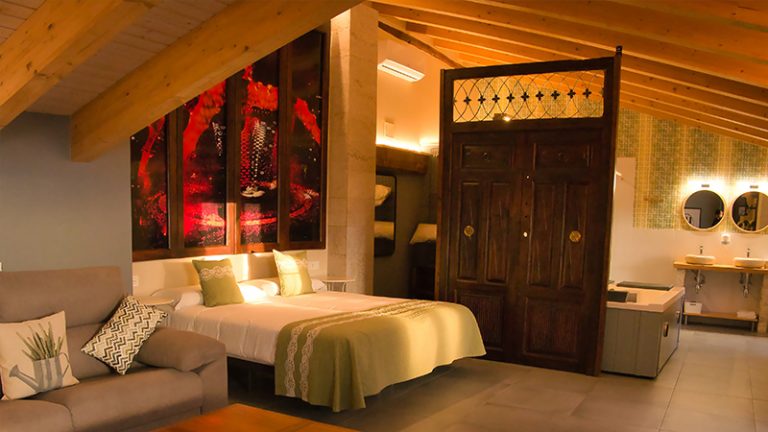 4. FEEL THE ADRENALINE OF CANFRANC
If you like spy stories, liberation stories and those that end well, this is your experience. Let a deep joy come over you for outsmarting the SS, for being on the right side, and for leaving behind a better humanity. That we are not at war and that this story happened decades ago? Not in our experience.
Relive these sensations, together with that of a great love story like yours, with the Back to Canfranc Valentine's pack. It includes the dedicated novel by Rosario Raro and a seat reservation for a trip on our train where you will feel that natural adrenaline and oxytocin of having contributed to the light defeating the darkness.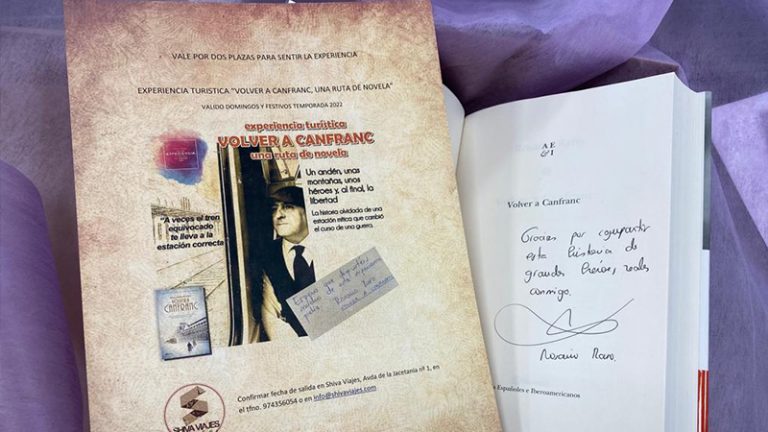 5. CAVA AND CHOCOLATE IN THE BEAUTY OF MATARRAÑA
Pure hedonism. Enjoy an exceptional cava, paired with chocolate and in an environment that invites love. Do you have a better plan?
The colors, light and care of Matarraña are contained in each bottle of Bayod Borrás cava. Some broths made with love, and it shows. He discovers their cellar, how they work with the traditional Champenoise method and attends a manual disgorgement.
Then dedicate yourself to the pleasure of tasting their cavas with chocolate.

BOOK THIS EXPERIENCE
6. A JOURNEY INWARDS
La Abadía de Siétamo restaurant is a magical place where time stands still. Select products, exquisite treatment and attention to detail. The perfect refuge to celebrate a different and exclusive Valentine's Day.
We propose an intimate plan: after the romantic dinner as a couple, we will gather around the fire for a session of Tales with Soul by Loreto Gabarre. Disconnected from the world and connected with ourselves, we will immerse ourselves in a sea of ​​deep and ancient stories. Like Scheherazade in the Thousand and One Nights. Words have the power to caress, heal, connect, inspire and make the imagination fly, igniting in us the spark of life and love. An unforgettable experience, ideal to share with our most special person.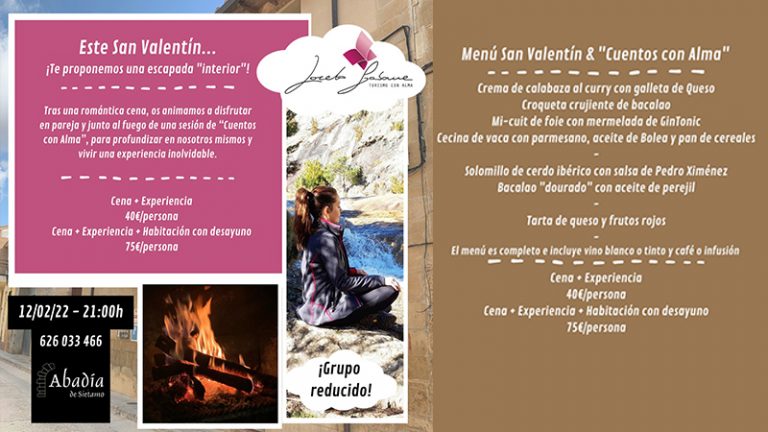 7. 4×4 SUNSET ROUTE FROM LOS BUITRES VIEWPOINT.

There are few things as romantic as a sunset in a unique place like the Mirador de los Buitres with views of the Mallos de Riglos (according to Condé Nast Traveler magazine, one of the most beautiful in Aragon). Getting there is not an easy task, so you can do it in a much more comfortable way aboard our 4×4 vehicle.
We will pick you up in Ayerbe, Loarre or Huesca. We will take you to the Mirador de los Buitres while we chat about what we are finding, we will talk about plants, animals, formations…
Once there we will give you a typical sweet to snack on while you can see how the sun escapes behind Peña Sola.
It will be an intimate walk, since you will not share it with other clients.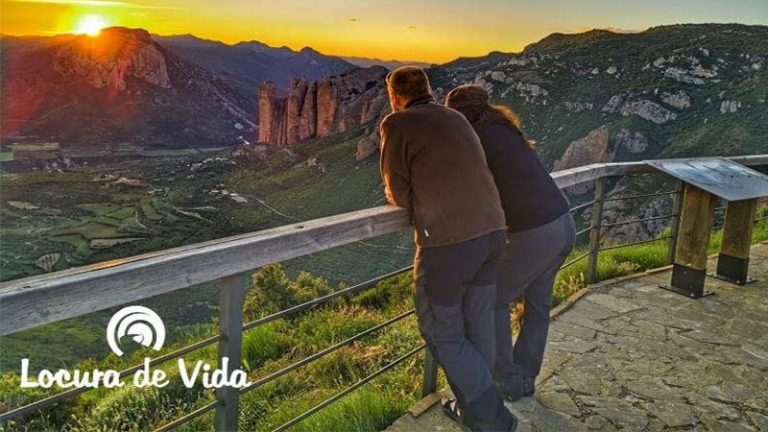 8. A FAIRY TALE IN MONCAYO

El Moncayo, land of imposing landscapes and full of legends, mysteries and magical beings that delight the most romantic. And, what is more romantic than celebrating Valentine's Day by staying in a real castle and relaxing in its jacuzzi on the slopes of Moncayo? Well, if we add to this the hallmark of Campo de Borja, visiting one of its wineries, it becomes the most idyllic getaway"