THE EXPERIENCE
Do you want to experience what an engineer feels when he builds and tests his creation?
In our INGENIOUS TOYS workshops, you can build planes, cars, helicopters, rockets, submarines, hovercrafts, wind turbines, and up to 30 different toys.
FORBIDDEN, DO NOT TOUCH! in the GREAT TRAVELING MUSEUM "Things of Science". There you can experiment, discover, and understand the laws of nature, playing with the different instruments it is composed of.
We will serve as your door to the Monegros. Can you imagine exploring the sky through a telescope built by yourself? QdCA provides you with the materials, knowledge and support for you to live this experience.

BOOKING AND CONTACT
Asociación QdCA Astronomía Grañén
Calle Mediodía 2
Grañén, (Huesca)
610 861 952
astronomiagranen@gmail.com
Fun engineering workshops

These workshops aim to discover the world of science and technology to everyone, but especially to children and young people.

Our INGENIOUS TOYS program is intended to be an educational service, which transmits the essential values of engineering in a fun way without forgetting the environmental commitment.

"Crazy about Astronomy" astronomy workshops

We are specialists in DESCRIPTIVE ASTRONOMY, in handcrafted construction of DOBSON telescopes, including their optics, and in GNOMONICS or the art of design and calculation of SOLAR CLOCKS. Hundreds of hours behind a telescope give us an experience that has to be shared.
Astronomy is a very ancient science. Thanks to her, our ancestors found the meaning of WHEN and WHERE.
The "When", the measure of time, both below the unit that we call DAY (clocks do it and the first was the sun) and above, with the CALENDARS. These concepts were vital when we became farmers (it was essential to know when to put a grain in the ground and that it was going towards fruiting time).

Itinerant Museum "Things of Science"

In recent years, at Astronomía Grañén we have been designing and building various "scientific toys" in order to apply our knowledge in engineering and environmental values.

"Toys", because they are. Since these instruments invite us to interact with them while playing, that is, to have fun.

"Scientists", the game, in addition to having fun, has other purposes: Amazing, investigating and discovering. Our intuition will deceive us, the result of the game is not as expected, curiosity is opened and it is at that moment when the situation invites us to investigate and discover. To discover the natural (physical) principle that "hides" the toy or game.

Together, these toys have formed a curious scientific museum, which we want to share with all those who request it.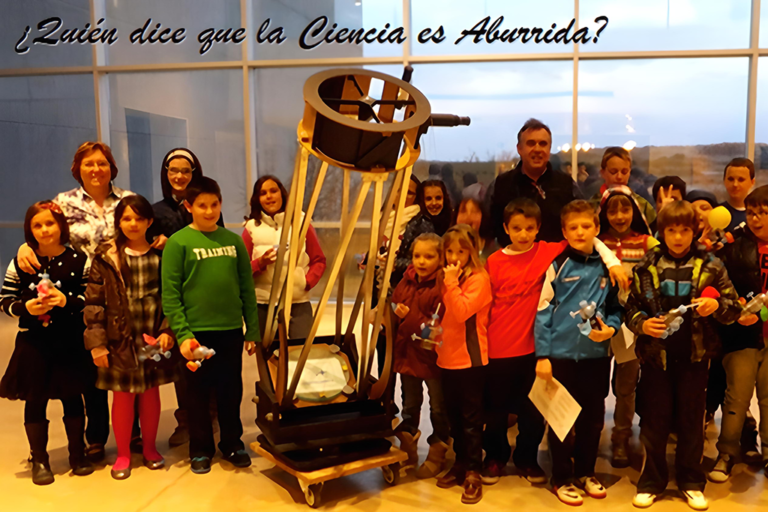 EXPLORE OUR SURRONDINGS  MONEGROS