THE EXPERIENCE
The doors of the Siétamo Abbey open for you to experience its "Nights with a Soul". An experience of personal growth in which YOU are the main character.
Magical spaces such as the library, the cellar, the dining room or the fireplace serve as the setting for this inner journey where the best gastronomy, mindfulness and relaxation merge, plus a tasting with pairing, until you finally get next to the fire to tell millennial stories.
An exciting experience in which we dedicate time to each other, share, awaken the senses, grow as a group and delight our bodies, minds and hearts.

BOOKING AND CONTACT
Abadía de Siétamo
Calle Alta, 10,
22120, Siétamo (Huesca)
626 033 466
info@abadiasietamo.es
What does the experience consist of?

In this experience, local gastronomy, oenology and mindfulness merge to offer an unforgettable activity in a magical and seductive space. Different corners such as the library, the cellar, the dining room or the fireplace act as a stage for the different activities that make up the experience:
The participants are arriving at La Abadía, where they are received in the hall by its owners Belén and Adrián, a warm place full of details that invites you to relax and feel at home. We stopped time, we disconnected the phones, the rush is over.

Then, gathered in the library, surrounded by books and illuminated by the dim light of the candles, the presentations begin, creating a climate of trust, complicity, expectation and the desire to have a good time.

After a brief introduction to mindfulness and its benefits, we moved to the winery to enter the silence, relax the mind and awaken the senses. Back in the dining room, Eloy Liarte, Cabecita Loca's sommelier, leads the group through a sensory journey. Smells, colors and textures begin to dance on our palate in a pairing of wine and flavors, immersing us in a bath of
sensations.

And dinner arrives. A very special dinner, cooked with care and made up of select local products, served with exquisite treatment and led by chef Belén Arcos, presenting the dishes and taking care of the details. Traditional cuisine that respects the environment. An explosion of flavor. Shared pleasure.

In the intimacy of the night, the time comes to gather around the fire: disconnected from the world and connected with ourselves, we enter a sea of deep and ancient stories. Loreto Gabarre, from Turismo con Alma, like Scheherazade in Thousand and One Nights, reels off, one by one, legends from all over the world to stir our consciences. Tales that move and touch the soul. Powerful words capable of caressing, healing, connecting, inspiring… Gathering among friends. We grow together, we reflect, we share life.

The evening is ending, the fire goes out and the soul lights up. May the magic be with you…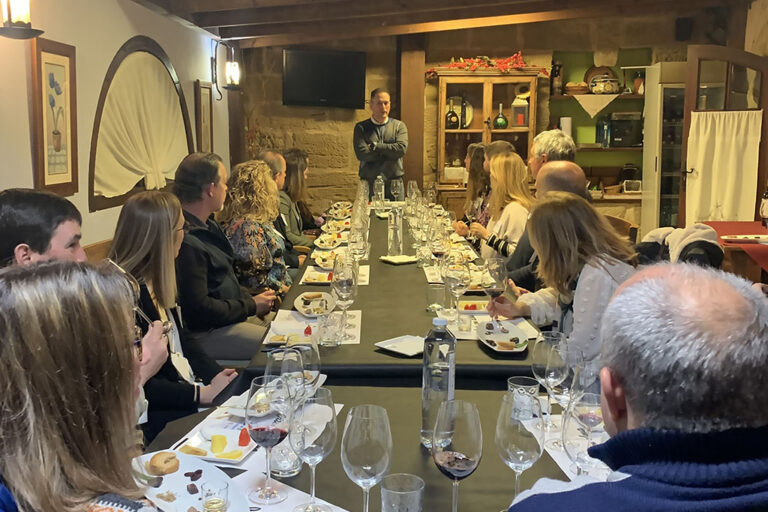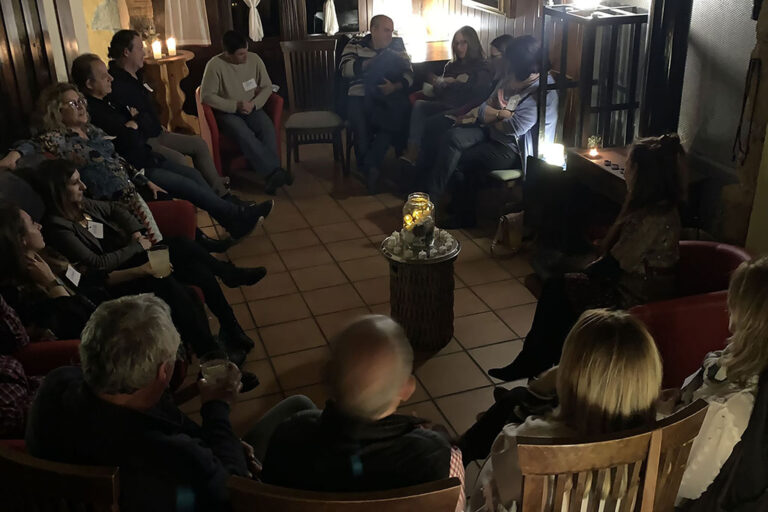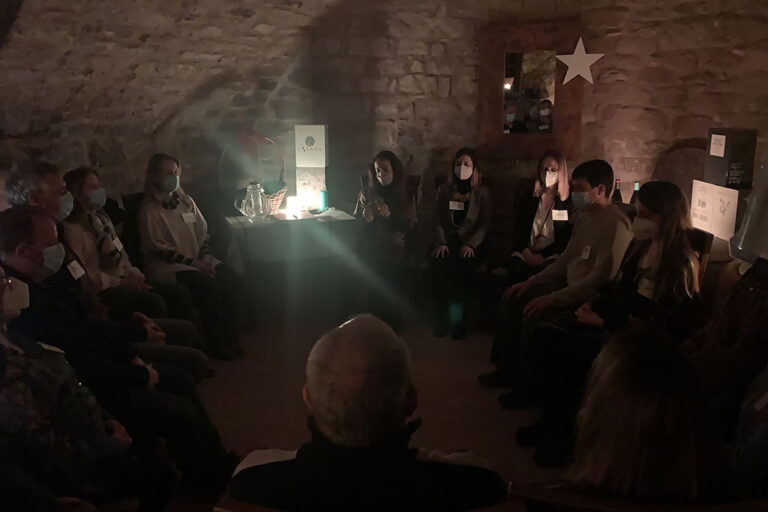 EXPLORE OUR SURRONDINGS  EL PREPIRINEO